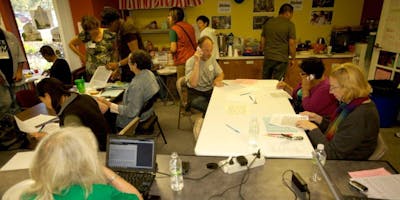 DemAction East Bay - El Sobrante Phone/Text Bank: State Elections
Saturday, October 26, 2019 from 11:00 AM to 1:00 PM (PST)
More Information →
Think nothing is happening in April 2019, so far from November 2020?  Think again – a steady stream of state legislature elections and special elections needs YOUR help – texting and phoning is up and running.
Come help slow the trump train by texting and making calls! 
We will train you and make sure you are comfortable calling or texting. 
Reminder: Bring your phone, your charger, your earbuds (for your comfort) AND your laptop or tablet (let me know if you want to borrow one), and your good cheer and positive energy to #Resist!
And bring a friend, too!!!!
Contact Nancy: nancyklein44@gmail.com  510-917-4045
Event is not wheelchair accessible.