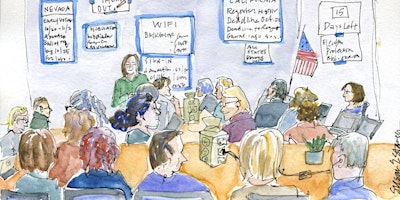 DemAction Marin - At Home & Together Phone Bank 6/6
Saturday, June 6, 2020 from 3:00 PM to 5:00 PM (PST)
More Information →
Join us to make calls together just like we did in Sausalito--but now virtually, using Zoom videoconference, so you're safe in your home. We'll be calling voters in the priority states we need to win in 2020.
All our experienced coaches will be on hand to help you with technical issues or voter questions. One of our team leaders will reach out to you ahead of the phone bank if you haven't participated in a Zoom phone bank to make sure you're comfortable with the new technology.
You'll receive a Zoom email invite with the link to join the phone bank before Saturday, and shortly before the phone bank on Saturday too. You'll need your laptop or tablet and phone as usual.